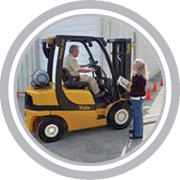 Heavy equipment operator certification is more than just a benefit of training at a licensed trade school. These days, the majority of construction career opportunities require it.
These OSHA courses will provide you with the basic knowledge on how to operate heavy equipment such as forklifts, cranes, boom trucks, handlers, and other types of heavy equipment on the jobsite. These courses detail engineering principles, safe operating rules, and operator maintenance.
Personnel operating Powered Industrial Trucks (PITs) must be able to operate them safely and must demonstrate this competency by completing the training and evaluation requirements in 29 CFR 1910.178(l).
Get the basic skills and knowledge necessary to safely operate heavy equipment and to gain entry-level employment in the construction industry and increase your chances of getting hired!
Course
Duration
Price
Enroll
Aerial Lift/Scissor Lift
This course is a complete online Aerial Lift/Scissor Lift operator safety training course that meets the OSHA and ANSI requirements for powered industrial trucks and vehicles.
1.5 hrs
$79.00
Enroll
Articulated Boom Truck
This OSHA compliant safety training provides instruction to the introduction to the equipment, operation, equipment inspection, understanding of controls, maintenance and inspections, maintaining stability, and recognition of hazards. I-CAB recognized.
1.3 hrs
$49.00
Enroll
Cranes and Rigging (C)
This OSHA compliant safety training provides instruction on the safe operation of cranes, derricks, hoists, elevators, and/or conveyors. Topics include cranes and derricks, helicopters, base-mounted drum hoists, overhead hoists, conveyors, and aerial lifts. This course covers the topics included in OSHA 29 CFR 1926.55 Subpart N.

1 hr

$20.00
Enroll
Pedestal Mounted Crane
This OSHA compliant safety training provides instruction to the introduction to the equipment, operation, equipment inspection, understanding of controls, maintenance and inspections, maintaining stability, rigging and hand signals,  and recognition of hazards.

1.3 hrs

$79.00
Enroll
RT Crane (Rough Terrain)
This OSHA compliant safety training provides instruction to the introduction to the equipment, safe operation, equipment inspection, understanding of controls, maintenance and inspection, maintaining stability, and recognition of hazards. I-CAB recognized.

1.3 hrs

$79.00
Enroll
Sit Down Forklift
This OSHA compliant safety training provides instruction to the introduction to the equipment, proper and safe operation, equipment inspection, understanding of controls, maintenance and inspection, traveling with and without a load, pallets and stacking, maintaining stability, backing, and recognition of hazards.
1 hr
$20.00
Enroll
Stand Up Forklift
This OSHA compliant safety training provides instruction to the introduction to the equipment, proper and safe operation, equipment inspection, understanding of controls, maintenance and inspection, traveling with and without a load, pallets and stacking, maintaining stability, backing, and recognition of hazards.

1 hr

$49.00
Enroll
Vehicle Mounted Aerial Lift (Bucket Truck)
This OSHA compliant safety training provides instruction to the introduction to the equipment, proper and safe operation, equipment inspection, understanding of controls, maintenance and inspection, maintaining stability, temporary traffic control principles, avoiding contact with power lines, preventing falls, and recognition of hazards. I-CAB recognized.

1.3 hrs

$79.00
Enroll