Canadian Occupational Health and Safety (OH&S) Awareness Training – Safety Centre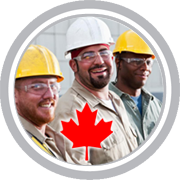 Authorized Training Provider
We can help you comply with Canadian Occupational Health and Safety (OH&S) standards so you can protect your employees from workplace injuries and death.
We offer a comprehensive online library featuring Canada Health and Safety Training courses which are in compliance with the safety regulations of Canada. Our comprehensive library of health and safety courses meets your required Canada training needs.
A health and safety program is a plan of action designed to prevent injuries and illness at work, and is required under occupational health and safety (OH&S) legislation in most Canadian jurisdictions. OH&S programs and management systems can help you meet your requirements, ensure compliance, and create a safe and healthy workplace.
Satisfy and standardize all of your compliance training needs online to save valuable time and money. Upon taking the video course and with a 70% or higher pass rate on the final exam, you will receive a certificate of completion.
Group Rates
Need OSHA training for more employees? Inquire here to enroll group together and receive a discount!
Course Name & Description (Alphabetical)
Duration
Price
Enroll
Electrical Safety – CANADA

This course gives a basic overview of electrical hazards and safety issues commonly encountered in workplaces. Learn about electrical hazards and preventive devices such as fuses and circuit breakers.

1 hr
$15.00
Enroll
Emergency Action Plan – CANADA

This course gives you a basic understanding of the means of egress, emergency action plans (EAP), and fire protection plans. Familiarity with these plans in any workplace can save lives.

1 hr
$15.00
Enroll
Fire Safety – CANADA

This course has been designed to deliver firsthand information about fires and fire protection measures. After completing this course, you will be able to identify different types of fires and how safety measures can be taken to avoid a disaster. We will also discuss the different types of fire extinguishers, and we will discover how careful planning and precautionary measures can be taken to save lives and property. This course is intended for the general audience.

1 hr

$15.00
Enroll
Hand & Power Tools – CANADA

This course gives you a basic understanding about the prevention and elimination of work-related illnesses and injuries. Hand and power tools are a part of our everyday lives and help us to easily perform tasks that otherwise would be difficult or impossible. However, these simple tools can be hazardous and have the potential for causing severe injuries when used or maintained improperly. Special attention toward hand and power tool safety is necessary in order to reduce or eliminate these hazards.

1 hr

$15.00
Enroll
Hazard Communication (GHS) – CANADA

Learn about the Hazard Communication Standard 2012 (1910.1200). The Hazard Communication Standard (HCS) provides information to workers and employers about various chemical hazards that exist in the workplace, and what protective measures they can take in order to prevent the adverse effects of such hazards. This course gives you a basic understanding of how to deal with hazardous chemicals and how workers can prevent and protect themselves from chemical hazards.

1 hr

$15.00
Enroll
Joint Health and Safety Committee (JHSC) Terms of Reference – CANADA

A joint health and safety committee (JHSC) is composed of worker and employer representatives. Together, they should be mutually committed to improving health and safety conditions in the workplace. Committees identify potential health and safety issues and bring them to the employer's attention and must be kept informed of health and safety developments in the workplace by the employer. As well, a designated worker member of the committee inspects the workplace at least once a month.

Joint health and safety committees assist in providing greater protection against workplace injury and illness and deaths. Joint health and safety committees involve representatives from workers and employers. This cooperative involvement ensures that everything possible is done to identify and eliminate or mitigate workplace health and safety hazards.

Source: Ontario Ministry of Labour

1 hr

$20.00
Enroll
Lockout/Tagout (GI)

This course is designed to inform employees about the requirements for lockout/tagout during servicing and maintenance of machines or equipment. Also covered are the requirements of the Lockout/Tagout Standard, procedures for the application of locks and tags, and a discussion of the types of energy these procedures are designed to control.

1 hr

$20.00
Enroll
Machine Guarding Safety – CANADA

This course will help workers to protect themselves from moving machinery. After completion of this course, workers will be able to properly apply the Machine and Machine Guarding requirements to their day-to-day work activities.

1 hr

$15.00
Enroll
Non-Office Ergonomics – CANADA

This course is designed to help employees identify work-related problems and learn to apply the principles of ergonomics in order to make their jobs less physically demanding, thereby increasing their overall efficiency.

1 hr
$15.00
Enroll
Personal Protective Equipment (PPE) – CANADA

This course will provide employers and employees alike with knowledge concerning the proper selection, care, and use of Personal Protective Equipment (PPE) . Learn the basics of PPE, including practical tips for safe use, PPE programs, limitations and legal responsibilities.

1 hr

$15.00
Enroll
Stairway & Ladder Safety – CANADA

This course gives you a basic understanding of standards and the role they play in the prevention and elimination of work-related injuries and fatalities due to stairways and ladders at workplaces.

1 hr

$15.00
Enroll
Transportation of Dangerous Goods – CANADA

This course was developed to meet the training needs for all persons involved in the handling, offering for transport and/or transporting of dangerous goods. In this module, you will learn the required training elements identified in the TDGA regulations. This workshop is a pre-requisite for all the other TDGA courses.

People who handle, ship, carry or receive dangerous goods must be fully qualified, trained and certified for their work. This course consists of eight modules that provide detailed descriptions of all aspects of the TDG system. The course will help managers and supervisors meet their responsibilities to ensure that all work involving dangerous goods is done properly according to the requirements of the TDG Act and Regulations.

3 hrs

$30.00
Enroll
Workplace Hazardous Material Information System (WHMIS) – "Right to Know"

The Workplace Hazardous Materials Information System (WHMIS) is Canada's hazardous communication standard. Nationally, it applies to suppliers, employers, and workers who must identify and safely manage hazardous materials in the workplace. Legislated by federal, provincial, and territorial jurisdictions, it is founded on the workers' fundamental "right to know" about materials they come in contact with.

This training covers all federal regulatory requirements for WHMIS 2015 training and meets the regulations established by the Federal Hazardous Products Act. This course also follows Controlled Product Regulations and now complies with the Globally Harmonized System of Classification and Labeling of Chemicals (GHS) Standard.

3 hrs

$25.00
Enroll
Workplace Violence – CANADA

This course highlights the problems of violence in the workplace. It identifies the various kinds and what constitutes workplace violence. The course then goes on to explain the potential costs of ignoring workplace violence and the methods that can be utilized to minimize and/or eliminate it from the workplace.

Understand workplace violence and the requirements for its prevention under the Canada Labour Code, Part II.

1 hr

$15.00
Enroll