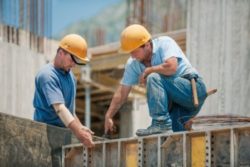 The Occupational Safety and Health Administration (OSHA) regulates job sites across the United States for safety and compliance, and if your company receives a citation from OSHA, you will have to correct the issue by the specific date that they set – and in some cases – you will also have to pay a penalty.
The following categories are the leading construction-related occupational safety and health violations since 2012:
Fall protection
Including residential construction, guard rails, portable ladders and scaffolds, this remains the most common OSHA violation among construction-related projects. Fall-related violations accounted for 359 out of 899 deaths in 2014, according to OSHA. The administration continues to respond with Local Emphasis Programs that include a focus on fall hazards in all 10 regions of OSHA governance nationwide.
Lack of training
Another common violation among OSHA's federal program and its state-run plans relates to training, specifically having to do with properly implementing fall-protection strategies. In addition to fulfilling the training requirements, employers must either confirm in writing that a worker has completed the necessary preparation or retrain the employee.

OSHA Outreach Training 10hr/30hr
Know Your Rights – Under Federal law, you are entitled to a safe workplace. Training also plays a key role in the prevention of accidents.
OSHA Accepted Provider
DOL Plastic Card Shipped Within 2 Weeks
Reg. Price: 10hr: $89 - 30hr: $189
Enter Promo Code "osha15off" at Checkout
Eye and face protection
The requirement for workers in industries including construction to be equipped with personal protection equipment for their eyes and faces came to light earlier this year, when OSHA passed its final silica rule, reducing the allowable exposure to airborne silica dust five-fold and requiring that companies track worker exposure and offer medical exams for those exposed for lengthy periods. The rule updated OSHA's Eye and Face Protection Standard for consistency across its standards and to allow workers to use the latest protective gear.
Head protection
Though not as common as falls, head-protection violations do occur. In February, a Norridge, IL-based roofing contractor was cited and fined $115,500 for violations including employees working sans head protection, in addition to fall hazards and operating a nail gun without proper eye protection.
Hazard Communication
Construction sites are home to a range of materials and substances, and contractors must ensure that their related hazards are documented and shared with the rest of the project team. Communications should include standard labeling in addition to data sheets and employee training where relevant. Lead and silica dust are among the substances requiring hazard communication.