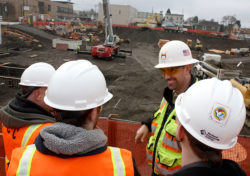 Which health and safety violations occur most often on the job site today? With construction accounting for one in five workplace deaths in 2014 and higher penalty payouts in place and new rules for tracking and recording violations – as it turns out, the worst offenses have largely stayed the same over time.
It should come as little surprise that fall-protection mishaps top the list. With more than 20,000 incidents reported in the last four years, it remains the leading cause of death in construction. Following close behind are faulty ladders and inefficient eye and face and head protection.

OSHA Outreach Training 10hr/30hr
Know Your Rights – Under Federal law, you are entitled to a safe workplace. Training also plays a key role in the prevention of accidents.
OSHA Accepted Provider
DOL Plastic Card Shipped Within 2 Weeks
Reg. Price: 10hr: $89 - 30hr: $189
Enter Promo Code "osha15off" at Checkout
This summer, OSHA announce its interim rule raising maximum civil penalties by 78% to meet the requirements of a federally mandated increase designed to ensure that the fines reflect inflation. The rule went into effect on Aug. 1, bumping the maximum fee for serious violations to $12,471 from $7,000 and the penalty for willful and repeated violations to $124,709 from $70,000.
Meanwhile, OSHA was criticized for the "anti-retaliation" provision of its new electronic recordkeeping rule. The contested portion of the rule eliminates post-accident drug and alcohol testing of involved employees, which critics say is essential to preventing future incidents but that OSHA contends is a privacy violation. Previously, companies that have conducted post-accident testing have become susceptible to higher OSHA fines.
Furthermore, OSHA has said the data collected will be publicly available in an effort to draw attention to the most serious violations and the companies at which they occur. The rule goes into effect on Nov. 1.
The top 10 OSHA construction standards cited by OSHA:
Enroll in Construction Safety Courses here