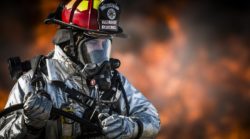 Are you a firefighter or know someone who is? As part of American Health Month, NIOSH has resources to help prevent on-duty cardiovascular deaths. Share them with all your fire fighting friends.
To reduce these deaths, NIOSH recommends that fire departments and fire fighters follow established medical screening guidelines, adopt risk reduction measures during fire fighting operations, and develop and participate in comprehensive wellness/fitness programs.

OSHA Outreach Training 10hr/30hr
Know Your Rights – Under Federal law, you are entitled to a safe workplace. Training also plays a key role in the prevention of accidents.
OSHA Accepted Provider
DOL Plastic Card Shipped Within 2 Weeks
Reg. Price: 10hr: $89 - 30hr: $189
Enter Promo Code "osha15off" at Checkout
Fire fighters are dying on the job from preventable cardiovascular conditions. Sudden cardiac death represents the most common cause of a fire fighter fatality. This document:
Provides background on fire fighting and heart disease,
Presents five case reports to highlight important findings,
Summarizes data from the NIOSH cardiovascular disease (CVD) fatality investigations, and
Provides recommendations (listed below) to minimize the risk of injury and death to fire fighters from cardiovascular events.
DHHS (NIOSH) Publication Number 2007-133
Source: NIOSH – Preventing Fire Fighter Fatalities Due to Heart Attacks and Other Sudden Cardiovascular Events [PDF – 1 KB]