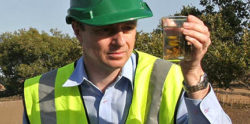 Environmental specialists and scientists use their knowledge of the natural sciences to protect the environment and human health. They may clean up polluted areas, advise policymakers, or work with industry to reduce waste.
Employment of environmental specialists is projected to grow 11% from 2014 to 2024, faster than the average for all occupations. Heightened public interest in the hazards facing the environment, as well as the increasing demands placed on the environment by population growth, is expected to spur demand for environmental scientists and specialists.
Certified Environmental Specialist – More Course Info

Course Overview
The Certified Environmental Specialist course has been designed for environmental professionals who want to maximize their environmental compliance and ensure public safety in the workplace.
This course covers over 24 hours of EPA regulation including the Clean Air Act (CAA), Clean Water Act (CWA), SPCC, RCBA, EPCRA, TSCA, CERCLA and environmental compliance planning and expectations. Upon completion of this course students will receive a certificate certifying them as a Certified Environmental Specialist.
Hours: 24 hours
Pre-Requisites: None
Intended Audience
This training is intended for persons requiring environmental certification in professions such as:
air and industrial hygiene,
radiological health, environmental chemistry and biology,
environmental management, environmental technicians, environmental marketing, environmental health, environmental landscaping, wastewater, surface and drinking water resources, food protection, or similar fields.
Learning Objectives
Successful completion of this course will enable you to implement updated environmental compliance programs at your facility. At the conclusion of this course, the student will be able to:
Discuss updated major environmental laws and regulations
Discuss the purpose and requirements of the Clean Air Act
Describe the background and requirements of the RCRA
Properly identify different types of hazardous waste according to RCRA regulations
Implement hazardous waste management systems to achieve and maintain compliance
Apply different features of the Clean Water Act in day-to-day operations
Explain regulatory and management issues relating to Storm Water Discharges
Identify the requirements of your SPCC plan
Module Quizzes and Final Exam
All module quizzes require a score of 70% to proceed forward in the course. The exam will test your knowledge on information covered throughout the course. You must make a score of at least 70% to pass this course. You will be given up to three opportunities to pass each quiz and the final exam. If you do not pass after three tries, you will be locked out of this course will no longer be able to take your Outreach training in an online format.
Course Completion Certificate
Upon successful completion of the course, you will receive a printable certificate of completion which is accepted by OSHA as documentation of training.